Henderson's Finest Local Computer Repairs Shop
At Dataforge, we have our very own workshop located in downtown Henderson, NC. We are dedicated to delivering top-notch repair services for a wide range of electronics. Our goal is to provide reliable solutions for all your tech repair needs.
When it comes to computer repairs, our workshop is fully equipped to handle various issues with expertise. From diagnosing and fixing hardware problems to software troubleshooting, we have you covered. Our skilled technicians work diligently to ensure that your computer is restored to optimal functionality.
With our convenient location in downtown Henderson, NC, you can easily access our workshop. Simply bring your device to us, and our team will take care of the rest. We prioritize quick turnaround times without compromising on the quality of our work.
Experience the convenience and quality of our in-house workshop for your computer repairs. Contact us today or visit our workshop in downtown Henderson, NC, to get your devices back in shape.
Check on your ticket status in our free online portal!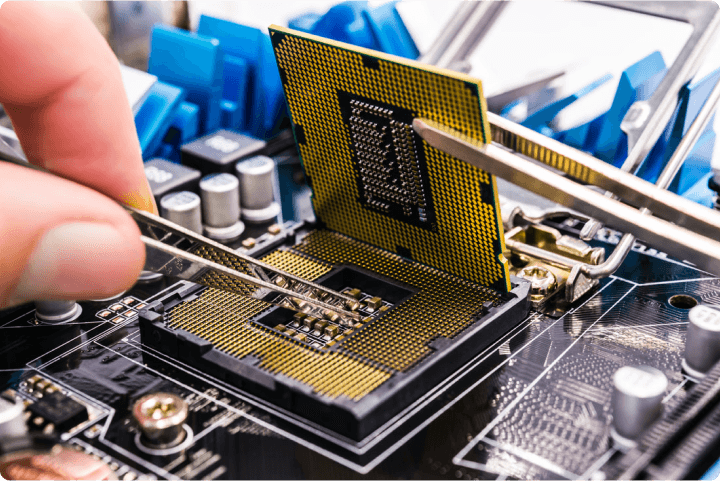 We Can Fix Your PC Easily In Henderson
At our repair center, we offer a comprehensive range of services for computer repairs to address various issues and ensure your device functions flawlessly. Our skilled technicians are well-equipped to handle a wide array of desktop repair needs, including:
Hardware Diagnostics: If your desktop computer is experiencing hardware-related issues, our technicians can perform comprehensive diagnostics to identify the root cause of the problem. This includes testing components such as the motherboard, CPU, RAM, hard drive, and graphics card.
Operating System Repair and Reinstallation: If your computer's operating system is corrupt, experiencing errors, or not functioning properly, we can repair or reinstall the operating system to restore optimal performance.
Virus and Malware Removal: If your desktop computer is infected with viruses, malware, or other malicious software, we can perform thorough scans and remove any threats to ensure your system is secure and protected.
Data Recovery: In the event of data loss due to hardware failure or accidental deletion, we offer data recovery services to retrieve your important files and documents. Our experts employ advanced techniques to recover data from hard drives, SSDs, and other storage devices.  If it is something we can not fix in house we can refer you to a more advanced data recovery lab.
Hardware Upgrades and Installation: If you're looking to enhance your computer's performance, we can assist with hardware upgrades such as adding more RAM, upgrading the hard drive or SSD, installing a new graphics card, or upgrading the CPU.
Power Supply Replacement: If your desktop computer is not turning on or experiencing intermittent power issues, we can diagnose and replace faulty power supplies to ensure stable and reliable power delivery.
Cooling System Repair: If your computer is overheating or experiencing frequent system shutdowns, our technicians can clean or replace cooling fans, apply new thermal paste, and optimize airflow to prevent overheating and improve system stability.
Peripheral Troubleshooting and Repair: If you're facing issues with peripherals such as printers, scanners, or external drives, we can troubleshoot and repair connectivity or compatibility issues to ensure smooth operation.
Custom Build Services: If you're interested in building a custom desktop computer tailored to your specific needs, our experts can provide guidance, component selection, and assembly services to create a system that meets your requirements.
General Maintenance and Optimization: We offer general maintenance and optimization services to keep your desktop computer running smoothly. This includes disk cleanup, registry cleaning, software updates, and system performance optimization.
Our dedicated team of professionals is committed to delivering high-quality desktop computer repair services. Whether you're facing hardware issues, software problems, or need assistance with system upgrades, we have the expertise to get your desktop computer back up and running efficiently. Visit our workshop to experience reliable and efficient desktop computer repairs tailored to your needs.