Henderson's Trusted Local Tablet Repairs Shop
At our repair center in Henderson, NC we also offer professional tablet repair services. If you're facing a cracked or shattered screen on your iPad or any other tablet, we've got you covered. Our skilled technicians are experienced in replacing broken glass and screens on iPads and various tablet models. Whether you're dealing with a damaged display, unresponsive touch functionality, or any other common issues, we have the expertise to get your tablet back in optimal condition. Trust us to provide reliable and efficient tablet repair solutions that restore the functionality and visual appeal of your device.
Check on your ticket status in our free online portal!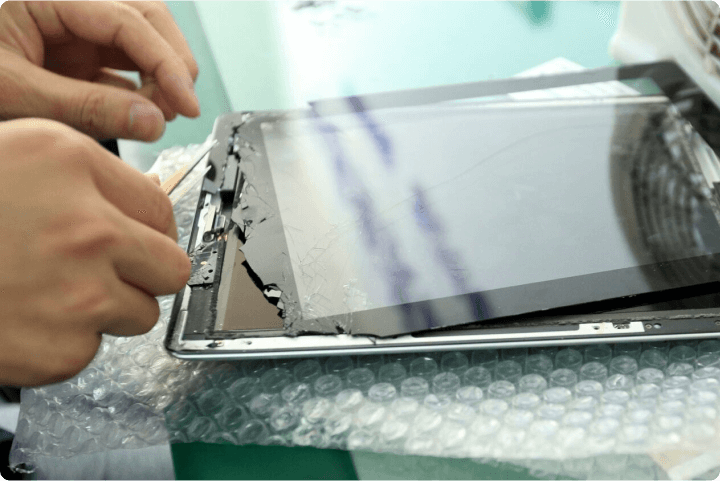 We Can Make Your Tablet Work Perfectly Again
At our workshop, we offer a comprehensive range of services for tablet repairs to address various issues and ensure your device functions flawlessly. Our skilled technicians are well-equipped to handle a wide array of tablet repair needs, including:
Screen Replacement: If your tablet has a cracked or shattered screen, we can replace it with a brand new one, restoring both functionality and visual clarity.
LCD Repair: If you're experiencing issues with the display, such as dead pixels, lines, or discoloration, we can perform LCD repairs to resolve these problems.
Touchscreen Repair: If your tablet's touchscreen is unresponsive or behaving erratically, we can diagnose and fix the issue, ensuring smooth and accurate touch functionality.
Battery Replacement: If your tablet is not holding a charge or draining quickly, our technicians can replace the battery with a high-quality replacement, extending the device's battery life.
Charging Port Repair: If your tablet is not charging properly or experiencing intermittent charging issues, we can repair or replace the charging port to restore reliable charging functionality.
Speaker and Microphone Repair: If you're encountering problems with audio output or microphone input, we can diagnose and repair issues with the speakers or microphones, ensuring clear sound quality during calls and multimedia playback.
Button and Switch Repair: If the physical buttons or switches on your tablet, such as the power button or volume controls, are malfunctioning or unresponsive, we can repair or replace them as needed.
Camera Repair: If the front or rear camera of your tablet is not functioning correctly or capturing blurry images, we can diagnose and repair camera-related issues, restoring the ability to take clear photos and videos.
These are just a few examples of the tablet repair services we provide. Our goal is to offer comprehensive solutions to address any hardware issues your tablet may have, ensuring that you can enjoy a fully functional and reliable device. Visit our repair center and let our experienced technicians handle your tablet repair needs with utmost care and expertise.